Hey Ya'll I'm linking up again with Lindsey at the
Bargain Blonde
for Friday Faves.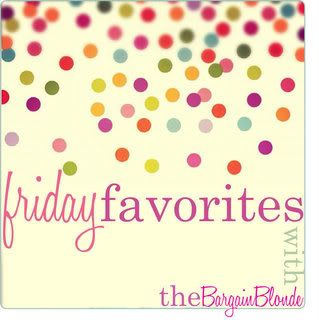 I love this link-up and her blog!
::Enter my giveaway below::
You must be a follower of this blog in order to win this prize.
(And you get an entry doing it ;) )
a Rafflecopter giveaway
2. Velina Jewelry
Emma
Terah
Sienna
When I went to Samford my freshman year, I met Tina.
She started a jewelry line with her sister and everything I have seen is fabulous.
It's amazing and inspiring for someone in college to start a COMPANY.
I barely get all my homework done.
I keep telling myself I'm going to get one but it's hard to pick just one.
I really love the bracelets with the cross.
You won't be sorry!
3. Old Navy Heart Sweater
I adore this heart sweater at J. Crew but I really don't love the price tag...
Well it looks like Old Navy has caught on and here is what they just came out with:
I love these!
I cannot wait to get one but our ON isn't carrying them yet.
I may/may not have to get both.
4. Beverly Hills Nannies
I saw an episode last night and fell in love.
I guess I can kind of relate to them because I am a nanny.
I absolutely adore being a nanny but ya'll...they have the life.
Some of them make $40 an hour.
FORTY AN HOUR people.
Complete with full benefits, paid vacations and driving the families' Porsches.
Maybe I should drop out of college, move to Beverly Hills and become a nanny.
With the economy the way it is, this probably isn't a half-bad idea.
5. Free Starbucks Refreshers
Okay, I'm not entirely sure what these are but they're free.
So go get one-- you know I am!
I do know that they have green coffee extract which provides natural energy.
Have a fabulous Friday & don't forget to enter the giveaway!
XO